3015 Garden Shed
All the space for your tools without taking up too much room in your backyard. The 3015 garden shed is a great size to fit your lawn mower and garden tools.

Getting To Know The 3015 Garden Shed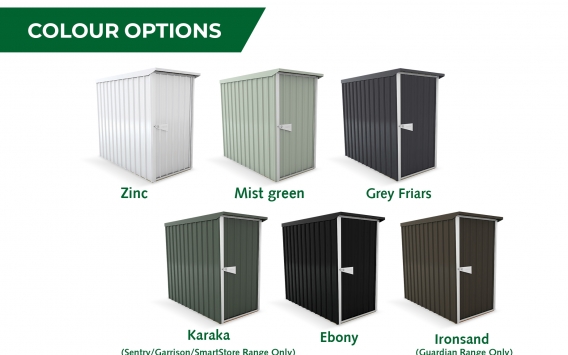 Colour options
Multiple colour option available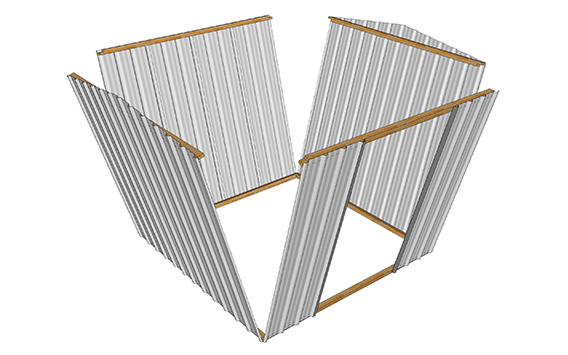 Semi-Timber Frame
A garden shed without a timber frame is like a human without a backbone. So to create a shed that stands up to New Zealand's harsh environment, without being harsh on the pocket, we've used 'timber where it counts'. This design philosophy combined with streamlined manufacturing processes allows us to offer a range of garden sheds that are a step above the rest in value for money.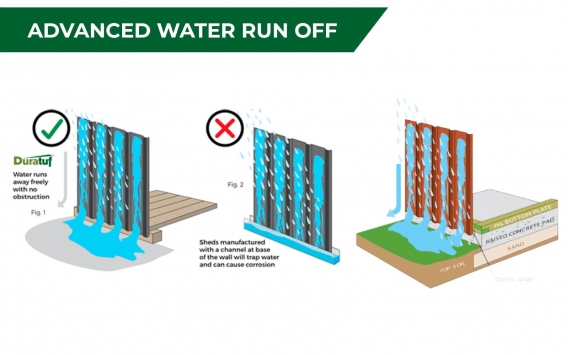 Advanced Water Run Off
Surely everybody wants a weatherproof garden shed? It's important then, that water flows away from your shed to ensure your valuable gear is kept dry. The unique design of our sheds ensures that water is not trapped on or around them.
Duratuf timber frame sheds feature a unique construction method where the cladding is nailed to the top and bottom plates. This method ensures that water runs away from the shed easily as there are no channels to trap leaves, dirt and water that will leak, or sit and corrode the cladding. (Fig. 1)
Conventional shed designs require a channel at the top and bottom of the shed to hold the cladding together. (Fig. 2)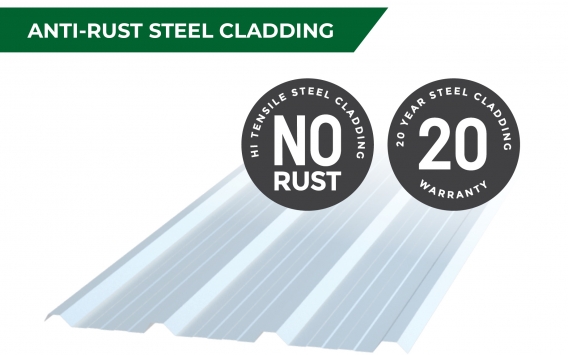 0.3mm Hi-Tensile Cladding
Duratuf Semi Timber Frame garden sheds feature a hi-tensile, deep ribbed 0.30 gauge steel cladding. Roll-formed in our factory in Hamilton, New Zealand, it is available in a classic non-rust Zinc/Aluminium finish, or your choice of four popular colour options.
For your further peace of mind our Semi Timber Framed sheds are backed up by a full 20 Year Warranty on all steel cladding. (Conditions apply)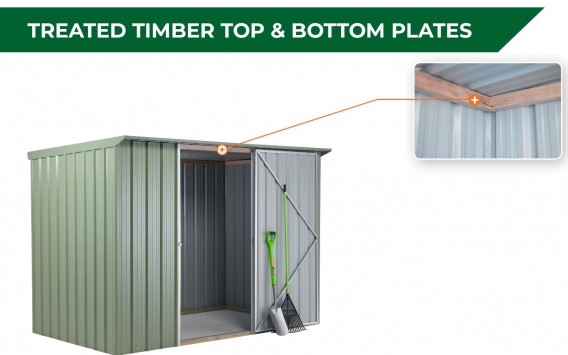 Treated Timber Top & Bottom Plates
Duratuf Semi Timber Frame garden sheds incorporate a treated 45 x 45mm timber plate top and bottom that locks together at the corners.
As well as providing superior strength, it creates an excellent platform to enable you to shelve out your garden shed, hang up your valuable gear and maximise your storage capacity.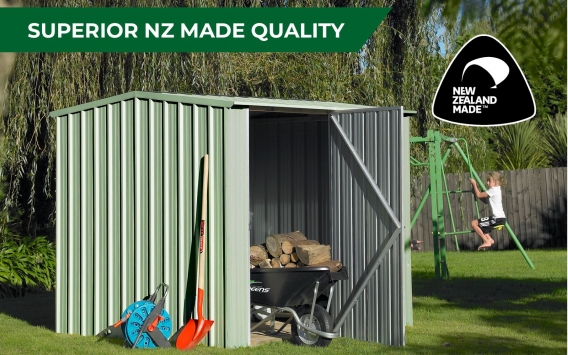 Superior NZ Made Quality
When you invest in a Duratuf garden shed, you are investing in a New Zealand made quality product that you can rely on.
Manufactured on home turf means that the product is suited to New Zealand conditions. Further to that, only the best materials are used, from NZ grown timber through to premium hi-tensile steel and quality fastenings.
Keeping Kiwis in jobs plays an important role in our community and gives the added assurance of controlled quality
during manufacture, coupled with a locally backed warranty - we'll be here if you need us!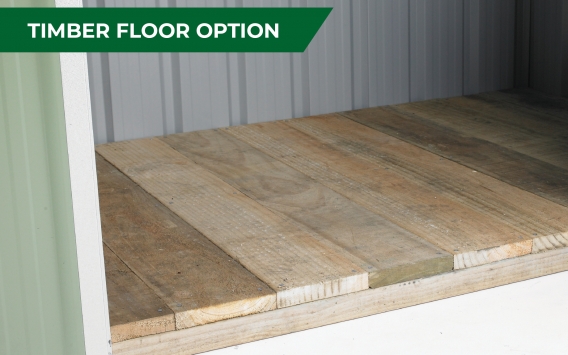 Solid Timber Floor Kit
Duratuf Timber floor kits create a strong, level working platform that fit inside the shed and on top of the base plate, not underneath like other garden sheds. This has a number of advantages.
• It creates a level of access into the shed.
• The cladding extends past the floor level and stops water from leaking back into the shed.
• The extra weight inside the shed provides the exceptional hold-down ability.
The kit includes everything that you need including thick gauge timber floorboards, ground-treated H4 joists and galvanised nails.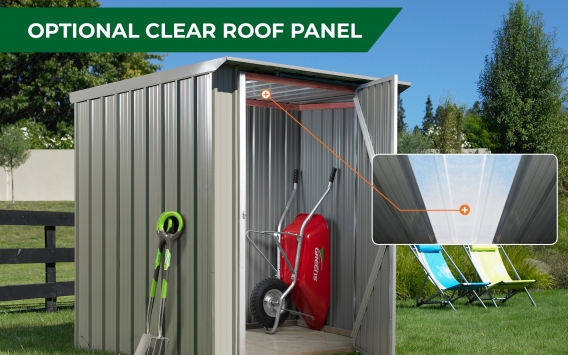 Optional Clear Roof Panel
Clear roof panels provide UV free natural daylight in your shed. These are available as an option with any semi timber frame garden shed, and fits in place of one steel roof sheet.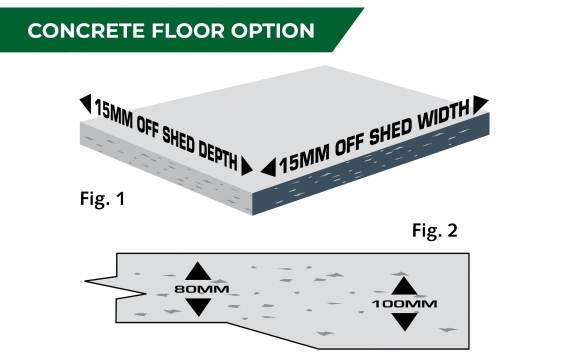 Building A Concrete Floor Base
Step 1 - Establish the size of the shed and excavate a sufficient area. Remember to allow for a rear roof overhang of 80mm and 30mm for end walls.
Step 2 - Ensure that the base substrate is compacted firmly. We suggest that the slab should be 80mm thick in the middle and 100mm thick around the edges (Fig 2).
Step 3 - Lay boxing to the required size. The raised slab size should be 15mm smaller than the overall base size of the shed and at least 30mm above the ground line. See Fig. 1
Step 4 - Lay plastic sheeting if required. Plastic sheeting under-slab will prevent moisture from coming through from underneath.
Step 5 - Pour concrete and screed flush.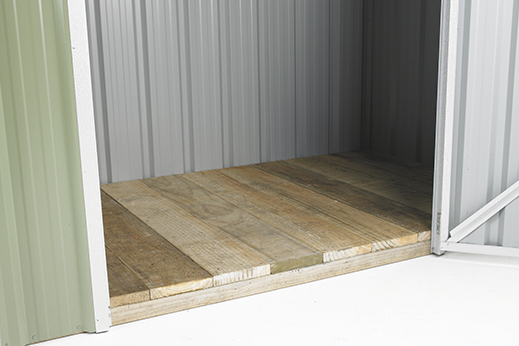 Timber Floor Kit
Designed to fit snugly inside your Semi-Timber framed shed, the floor kit includes all materials and fixings needed for easy installation.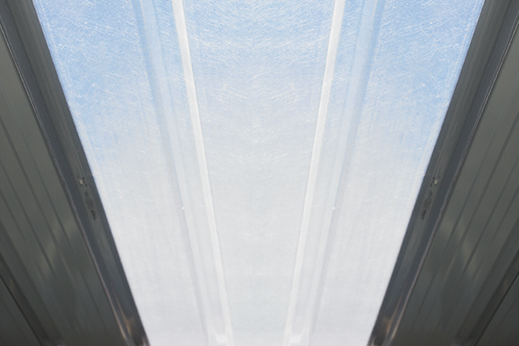 Clear Roof Panel
Duratuf Clear Roof Panels provide UV free natural daylight inside your shed. Perfect for if you're using your shed for a workshop and need light while the door may be closed. For gable shed models you can choose from either single side or both sides of the roof. Please note that clear roof panels may condensate more than a steel roof during cold weather.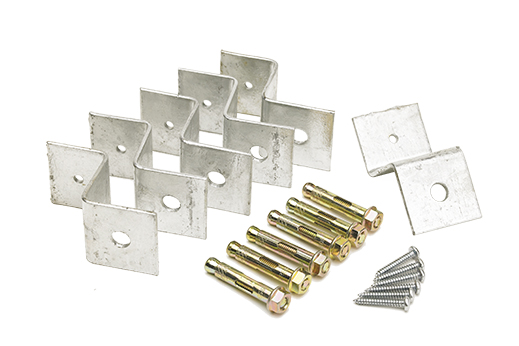 Bolt Down Kit
If your shed is to be attached to a concrete floor or base, the Bolt Down Kit allows you to securely anchor your shed without damaging either your concrete pad or the timber frame of the shed. The kit consists of hot dipped galvanised steel brackets, with Dynabolts to anchor into the concrete floor and screws to attach to the bottom frame.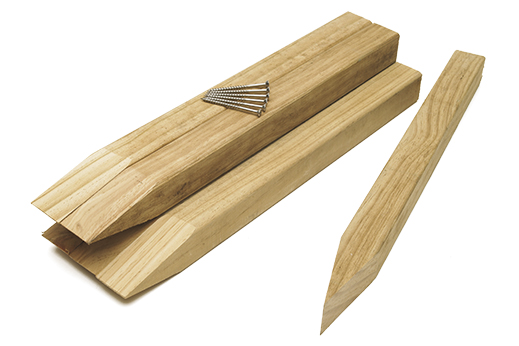 Peg Down Kit
The Duratuf peg down kit is perfect for anchoring your garden shed on ground such as grass, dirt or metal. The 6 x H5 treated pegs are driven into the ground and screwed to the bottom plate with the stainless steel screws provided. A timber floor kit can then be fitted over the top if required.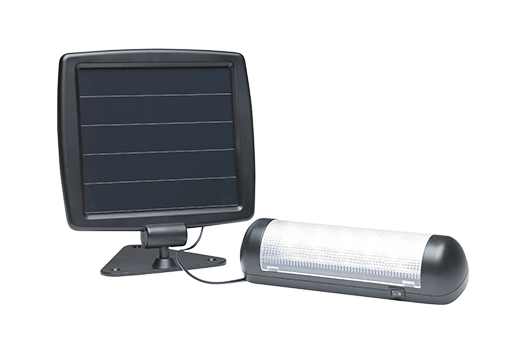 Solar Shed Light
If you aren't running mains power to your shed our solar shed light with its super bright LED technology provides light even after dark. Comes with a 1 year warranty.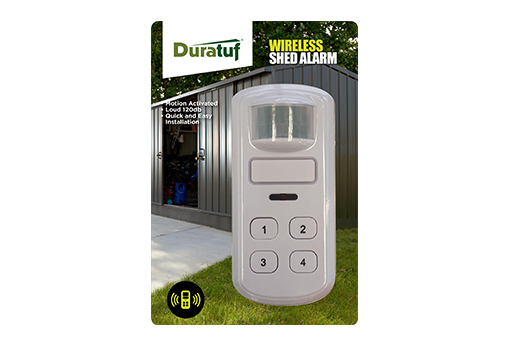 Shed Alarm
This innovative mains free shed alarm is easily fixed inside the framing of your Duratuf shed. Features an ultra-loud 130db siren.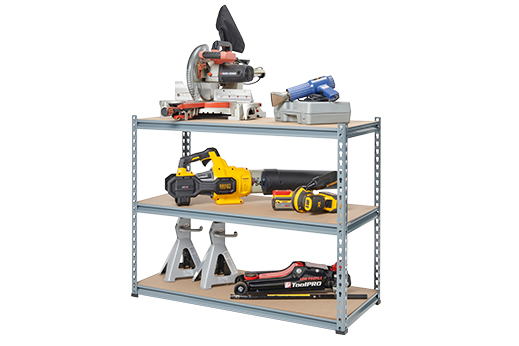 Heavy Duty Workbench
For a solid working area and extra storage capacity you need a heavy duty work bench. This well designed bench has a unique lock together construction with a 250Kg load rating per shelf support. Approximate size: 1140mm W x 500mm D x 900mm H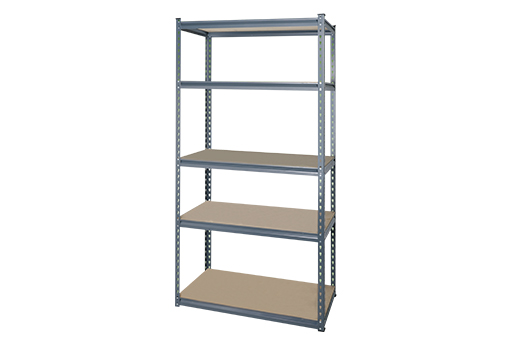 5 Tier Shelf Unit
Maximise your storage space with this bolt free interlocking kitset shelf unit. Each shelf support has a 350kg load rating with quality MDF shelves. With a galvanised frame it is built to last - an ideal complement to your Duratuf shed. Approximate Size: 900mm W x 400mm D x 1800mm H
Your review of 3015 Garden Shed
Semi Timber Frame Range Features
In this video Justin points out the features of our Semi Timber Frame range of sheds.
Semi Timber Frame Shed Assembly Video
In this video Keith will show you how to build a Duratuf Semi Timber Frame shed like a professional. To be used in conjunction with the instruction manual, Keith's practical tips and tricks will make your assembly experience that much simpler. Giving you visual guidance through sections that seem tricky on paper, and helping you achieve a flawless end result.