Building Your Own Retreat
Introducing the Duratuf Lifestyle Cabin Sheds with a Ranch Slider.
Cabin sheds have long been a popular choice for those looking for a cost-effective, versatile, and practical outdoor living solution. Whether you're in need of extra storage space, a home office, or comfortable guest accommodation, a Duratuf Lifestyle Cabin can provide you with all of these and more.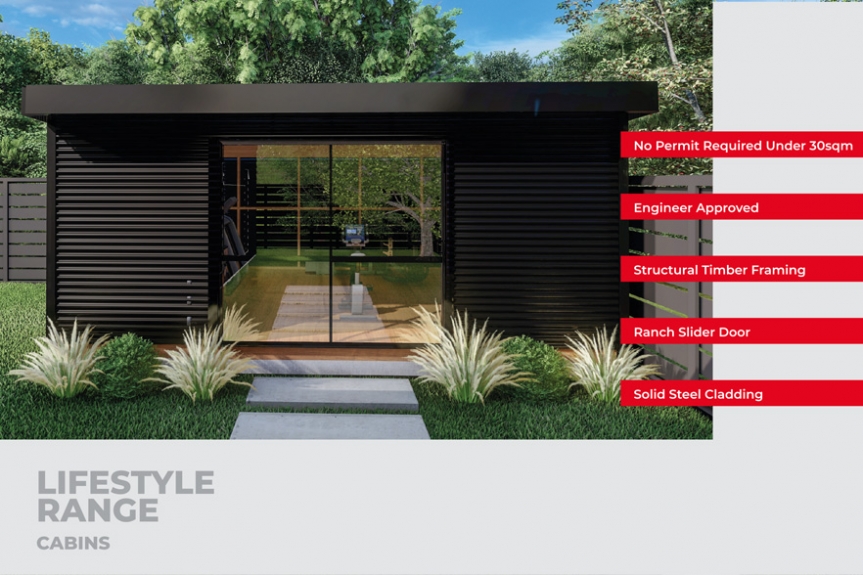 One of the key features of the Cabin Series of sheds is the ranch slider, also known as a sliding glass door, which is a type of door that has a large glass pane that slides horizontally to open and close. The ranch slider in these cabins is made from toughened single-glazed safety glass and provides easy access to your shed, as well as plenty of natural light and provides a seamless transition between indoor and outdoor living areas.
Your Ideal Space for Work, Rest, and Play
These sheds are a blank canvas in the best way possible. They are fully configurable, allowing you to change the exterior colour and add windows and doors. You can even insulate and line the interior and create an ideal space that suits you. The Lifestyle Cabin series comes in three different size kitsets, so you can assemble yourself or call in the big guns and sit back while they do it for you.
Needing extra space or wanting to create a dedicated workspace that is separate from your home environment, home office, sleepout, teen pad, gym, or entertainment room? These cabin sheds can be adapted to suit your needs. The full 90x45 timber frame allows for easy installation of flooring, carpeting, shelves, workbenches, lighting, and other features to make your shed the perfect space for your needs with a 30-year warranty.
The key advantages of the Cabin Series
The new range of Lifestyle Cabin sheds are designed with both functionality and aesthetics in mind. Each cabin shed is built using high-quality materials, including sustainably sourced timber, to ensure durability and longevity.
Perhaps the biggest advantage of investing in the Duratuf Lifestyle Cabin Series is its affordability. These cabins are significantly cheaper than building an extension to your home, and they can provide valuable extra space that can be used for a variety of purposes.
So why wait? Bring your backyard dreams to life with a Duratuf Lifestyle Cabin series.