Fortress Range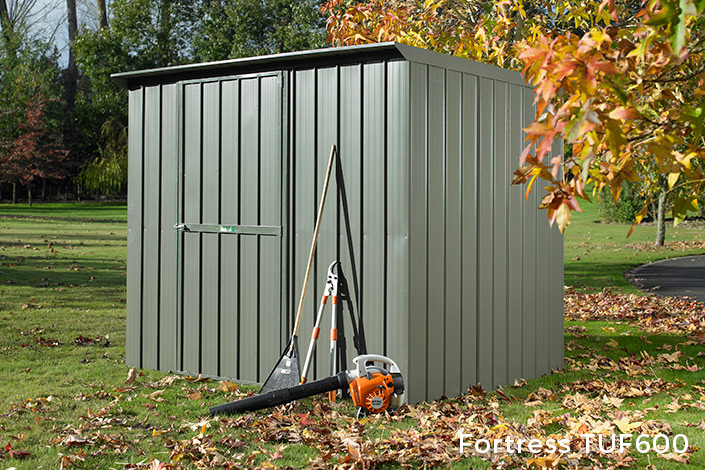 Simply New Zealand's toughest garden sheds! Built for New Zealand conditions with a full-timber frame that offers the strength and rigidity to handle anything Mother Nature can throw at them.
These sheds are uncompromisingly tough and incredibly great looking. They can also be extensively adapted, upgraded and accessorised to fit your requirements using our 3D shed builder.
Models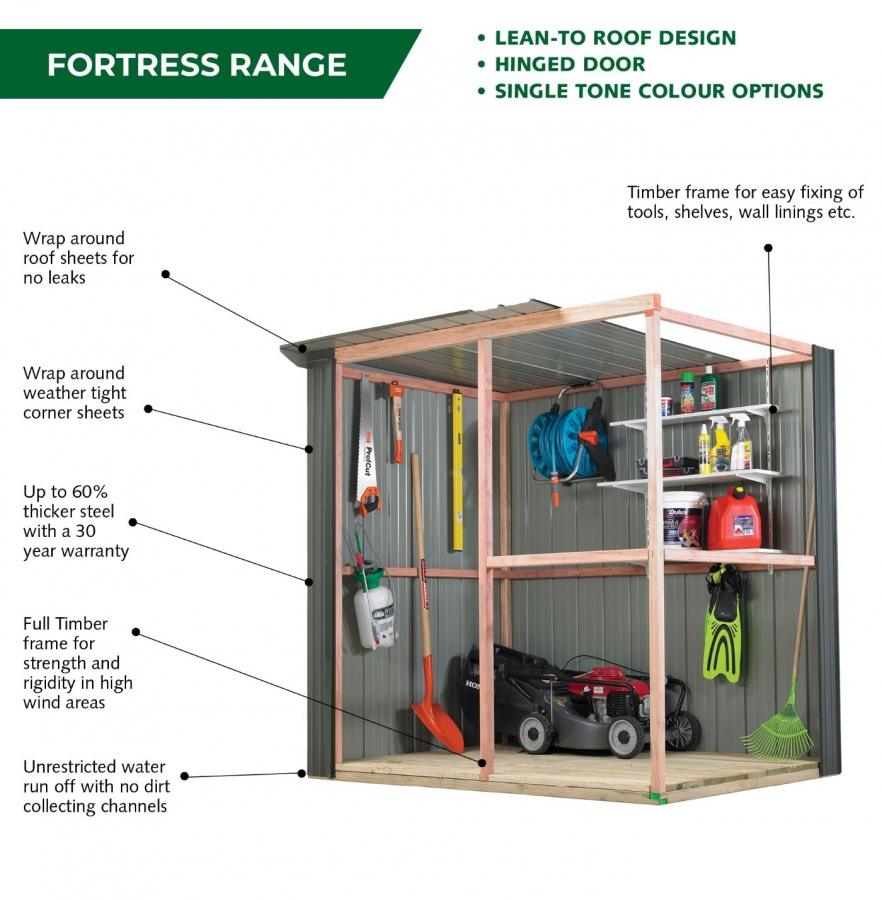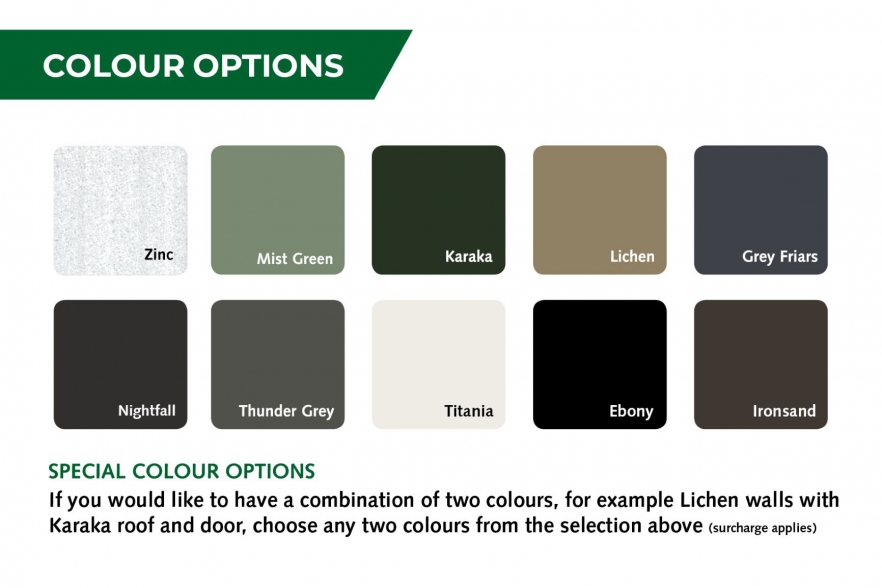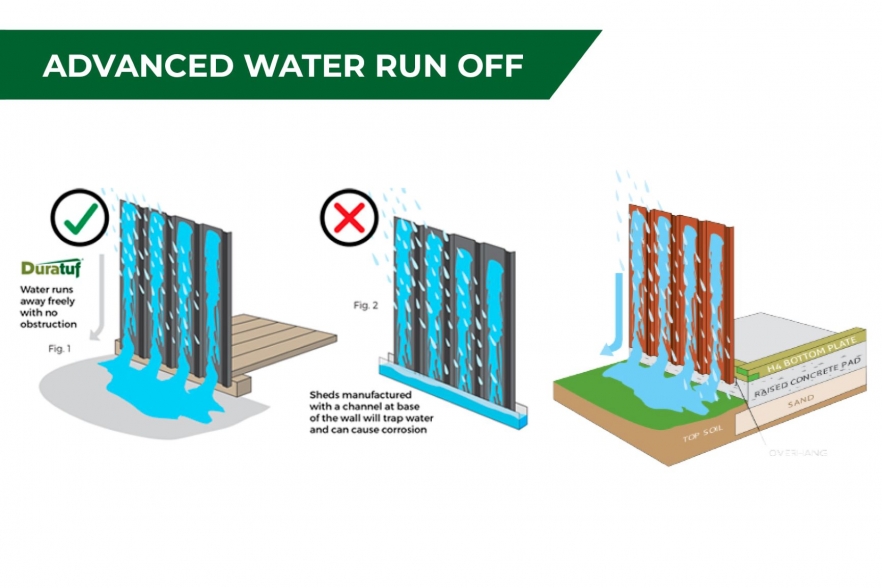 Surely everybody wants a weatherproof shed? It's important then, that water flows away from your shed to ensure your valuable gear is kept dry. The unique design of our sheds ensures that water is not trapped on or around them.
Duratuf timber frame sheds feature a unique construction method where the cladding is nailed to the top and bottom plates. This method ensures that water runs away from the shed easily as there are no channels to trap leaves, dirt and water that will leak, or sit and corrode the cladding. (Fig. 1)
Conventional shed designs require a channel at the top and bottom of the shed to hold the cladding together. (Fig. 2)
Fortress kitsets can be modified to allow the wall cladding to extend past the base of the shed when placing on a raised concrete floor. This completely eliminates the possibility of water running back into the base of your shed.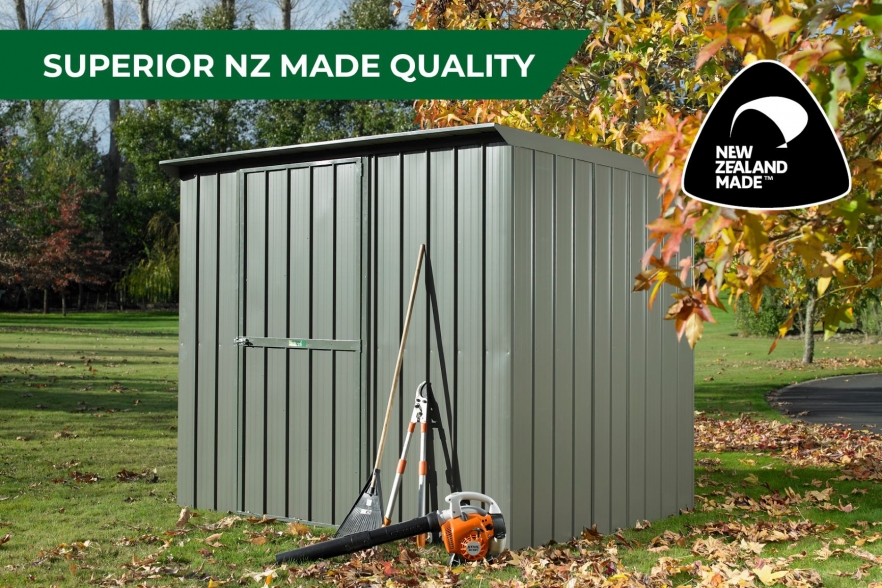 When you invest in a Duratuf garden shed, you are investing in a New Zealand made quality product that you can rely on. Manufactured on home turf means that the product is suited to New Zealand conditions. Further to that, only the best of materials are used, from NZ grown timber through to premium hi-tensile steel and quality fastenings.
Keeping Kiwis in jobs plays an important role in our community and gives the added assurance of controlled quality
during manufacture, coupled with a locally backed warranty - we'll be here if you need us!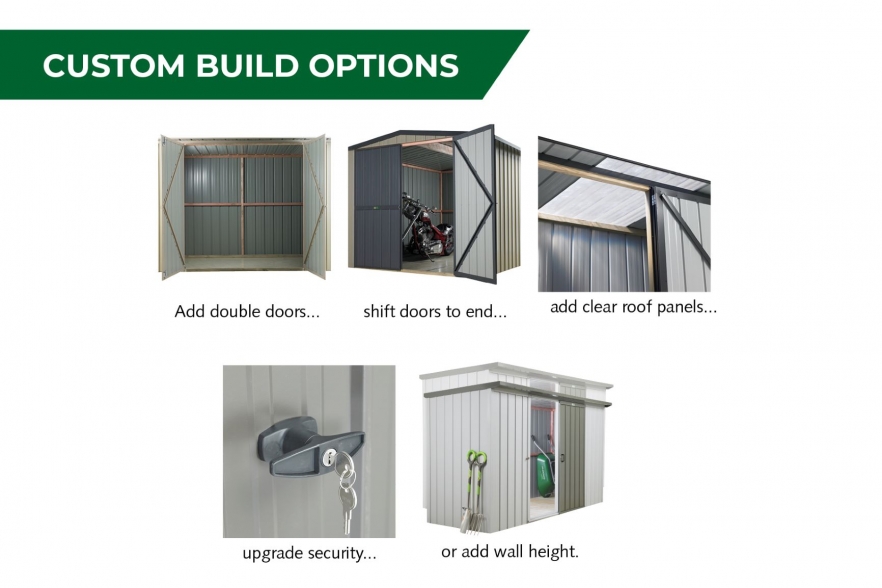 Need something special? Something a little bit out of the ordinary? Allow us to create the perfect shed for you.
Being a 100% New Zealand owned and operated company, we can modify your shed to suit your needs.
Not all customisation options available on all models. To check options jump on our 3D Shed Builder.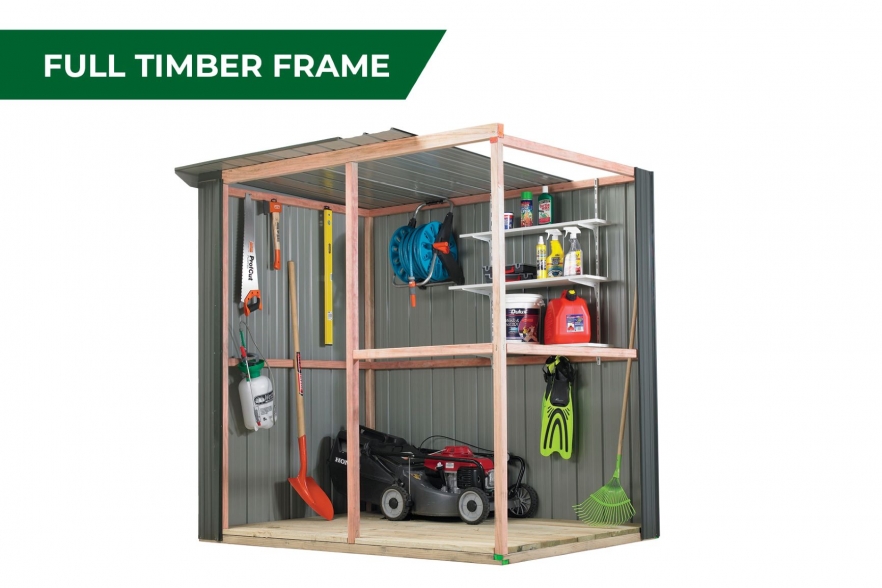 A machine finished timber frame forms the backbone of our sheds. The timber gives added rigidity and strength and is interlocked at the corners to form an extremely robust structure.
Traditionally sheds have relied on nuts, bolts and screws to hold them together. Duratuf Fortress sheds however are constructed with the cladding fixed securely to the frame using galvanised nails - just like a garage. This braces the structure and gives the added strength needed to last that extra distance.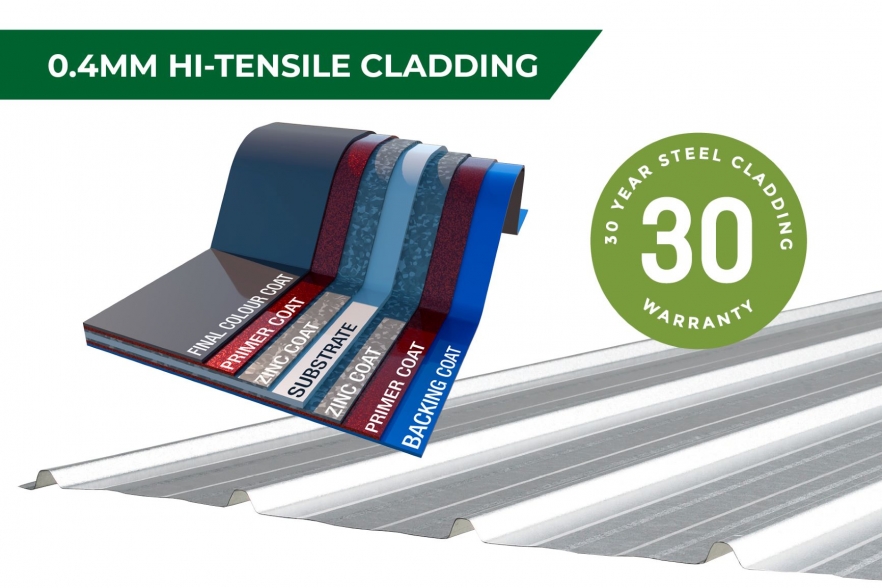 Duratuf Fortress sheds are manufactured from strong hi-tensile .40 gauge steel, roll formed into an attractive 6-rib profile and are available in a Zinc / Aluminium finish or in a range of popular colour coated options. And because we are so confident in the quality of our cladding, we back it up with a full 30 year warranty (conditions apply).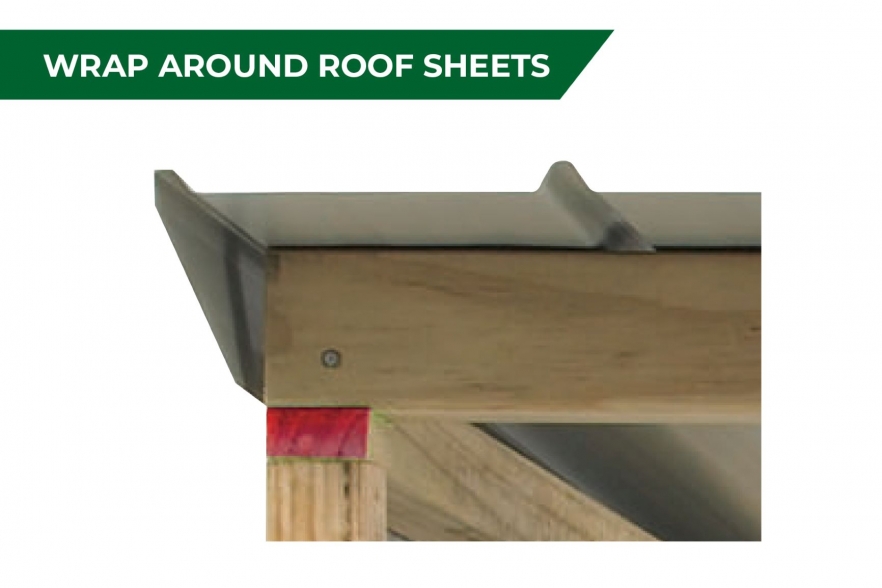 The roof design on the Fortress range also features pre-folded roof sheets that wrap over the end walls to create a watertight finish. This makes installation easy and ensures that there are no leaks.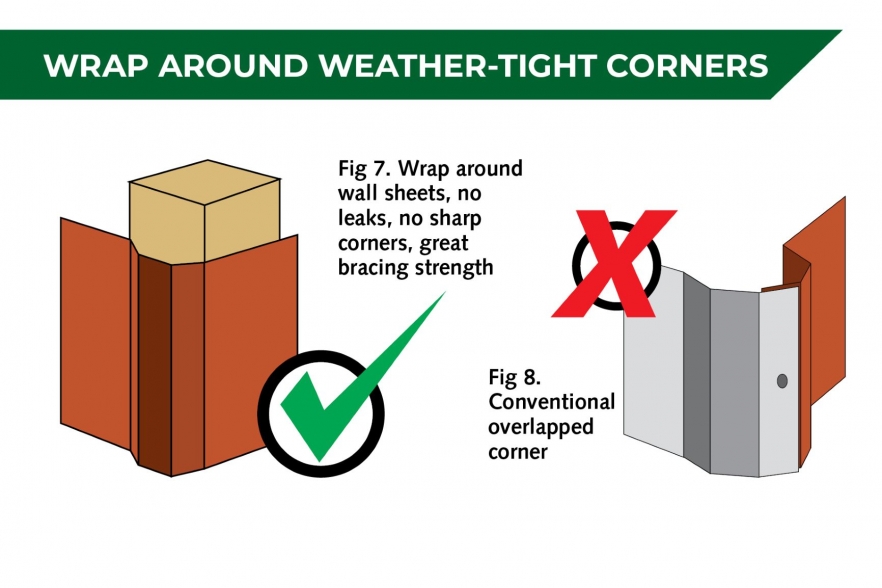 Duratuf Fortress sheds feature unique full-size wall sheets that wrap around the corners (Fig. 7), eliminating any corner joins. This gives the shed amazing waterproofing qualities and is clearly superior to most conventional corner designs (Fig. 8)
Wrap around corners also provide exceptional bracing strength and eliminate any sharp edges.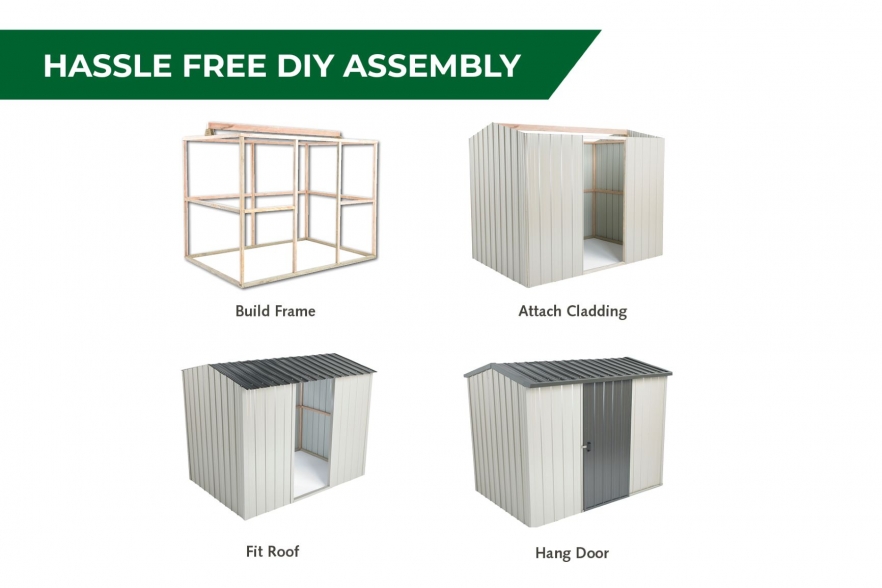 With the full timber frame construction system you'll find these sheds a pleasure to put together. All hardware is provided including galvanised cladding nails, rivets and weather seal nails for the roof. For your convenience the door is pre-assembled in our factory and concise step-by-step instructions will guide you through the easy installation process.
Tools Required
Shed Hammer, nail punch, drill, 3.5mm drill bit, riveter, tin snips, long nosed pliers, tape measure, stringline, level, ladder or saw stool.
Floor - Hand saw and chisel or jigsaw.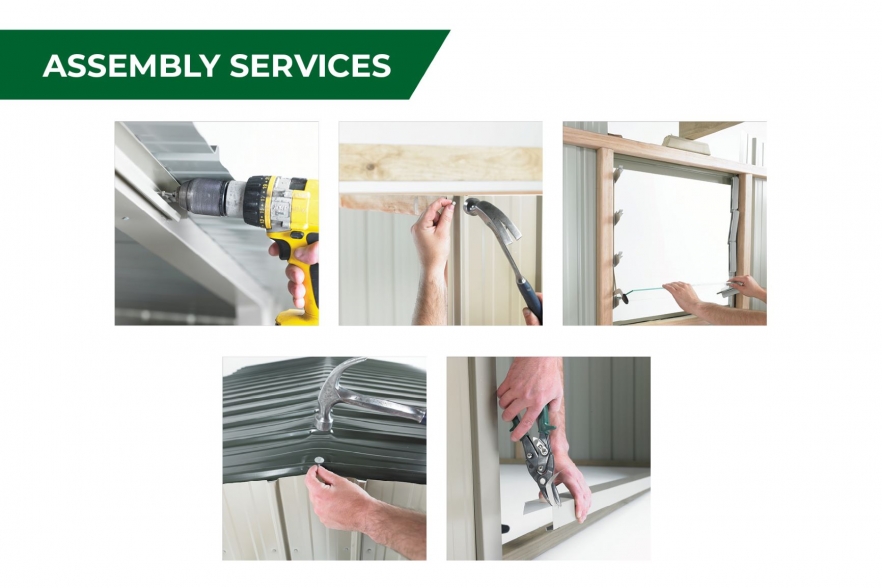 You may choose to put your feet up and let someone else do the work for you. There are shed installation professionals in most parts of the country that we recommend. Visit our Recommended Assemblers page.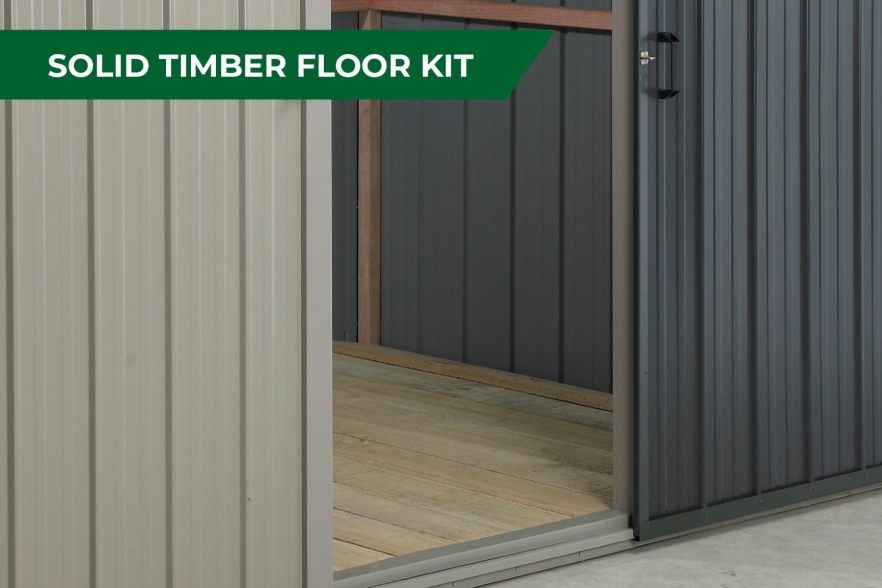 Duratuf Timber floor kits create a strong, level working platform that fit inside the shed and on top of the bottom plate, not underneath like other sheds. This has a number of advantages.
• It creates a level access into the shed.
• The cladding extends past the floor level and stops water leaking back into the shed.
• The extra weight inside the shed provides exceptional hold-down ability.
The kit includes everything that you need including thick gauge timber floor boards, ground treated H4 joists, galvanised nails and an attractive doorway flashing.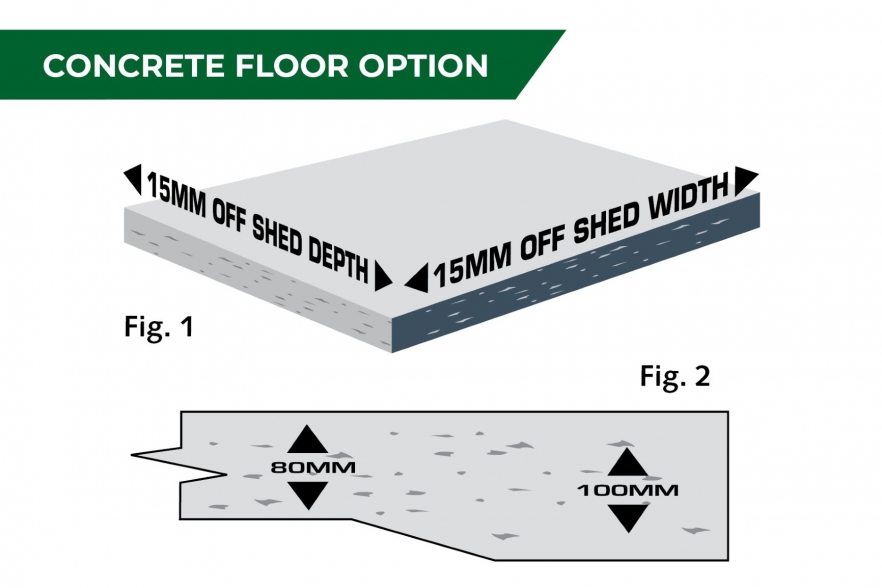 Building a Raised Concrete Base
Step 1 - Establish size of shed and excavate sufficient area. Remember to allow for rear roof overhang of 80mm and 30mm for end walls.
Step 2 - Ensure that the base substrate is compacted firmly. We suggest that the slab should be 80mm thick in the middle and 100mm thick around the edges (Fig 2).
Step 3 - Lay boxing to the required size. The raised slab size should be 15mm smaller than the overall base size of the shed and at least 30mm above the ground line. See Fig. 1
Step 4 - Lay plastic sheeting if required. Plastic sheeting under slab will prevent moisture coming through from underneath.
Step 5 - Pour concrete and screed flush.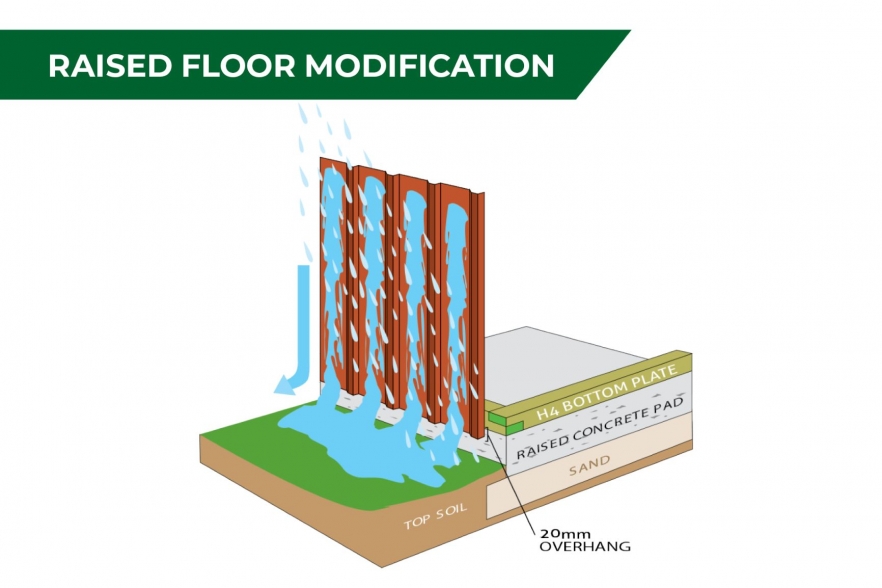 The unique design of Duratuf timber frame sheds allows them to be adapted using the Raised Floor Modification. This makes the cladding protrude 20mm below the base plate. Any water running down the wall cannot flow into the shed ensuring a dry, weather-tight floor.
If building a raised concrete pad for your Fortress garden shed you do not need to order the Raised Floor Modification as this can simply be done when assembling the shed.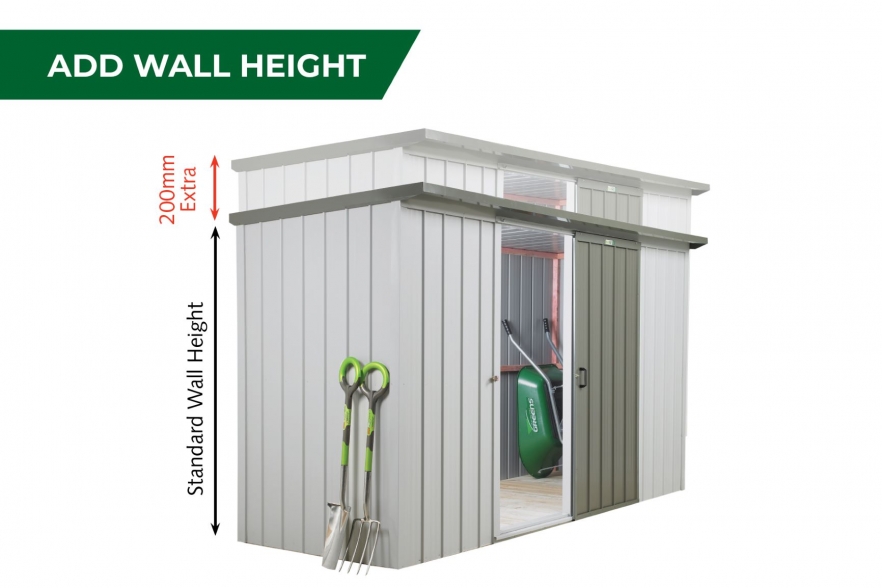 All Fortress sheds feature a generous 1.9m wall height as standard, however there are times when a little extra head height can come in handy. Now you can have the option of 200mm extra wall height!
If you feel that a little extra head height would be a luxurious advantage, Fortress sheds can now be modified easily to give you that extra height you need. This not only creates a feeling of spaciousness, but gives more room for taller people to move around freely. It also gives more capacity to hang tools or shelving, and to maximise storage of tall objects.
The increased Head Height Option is also ideal in a workshop situation, allowing more room to move when working at a workbench, as well as providing some added space to install lighting. Surcharge applies.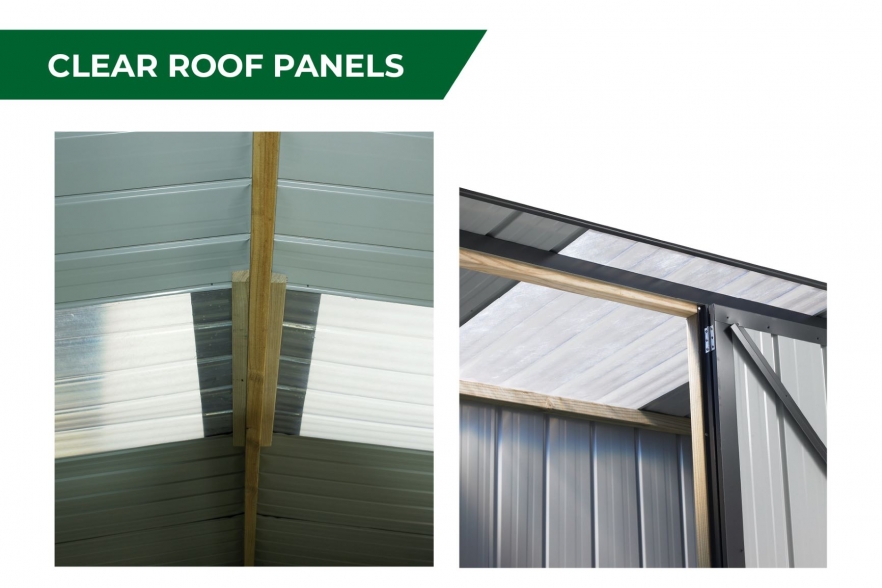 Duratuf Clear Roof Panels provide UV free natural daylight, ideal for a workshop situation.
For gable roof sheds, choose from either single or double clear panels (one side or both sides of the central ridge beam).
Please note that clear panels may condensate more than steel.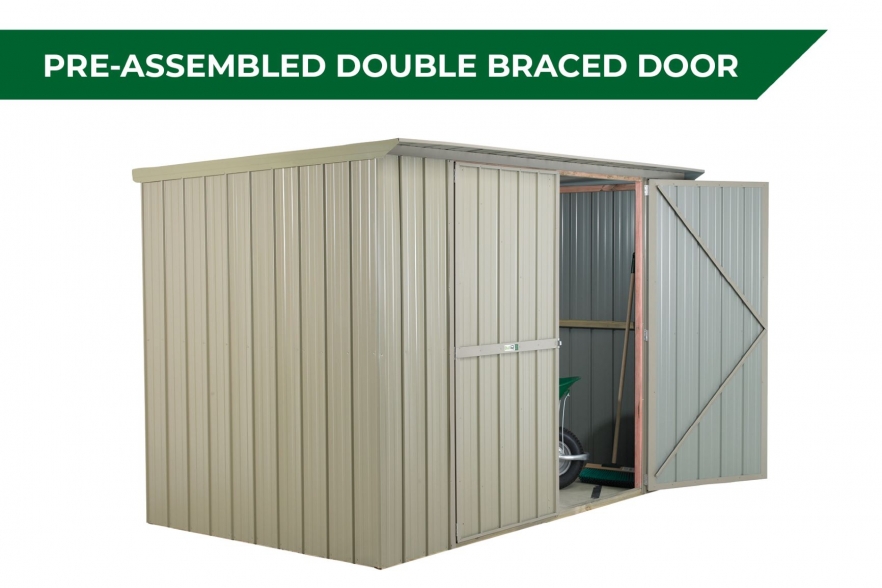 Duratuf Fortress sheds come with a strong, double braced weatherproof door which swings a full 180 degrees.
To ensure assembly is quick and easy, the door is pre-assembled in our factory. Fortress doors come standard with 3 hinges and a pad-bolt.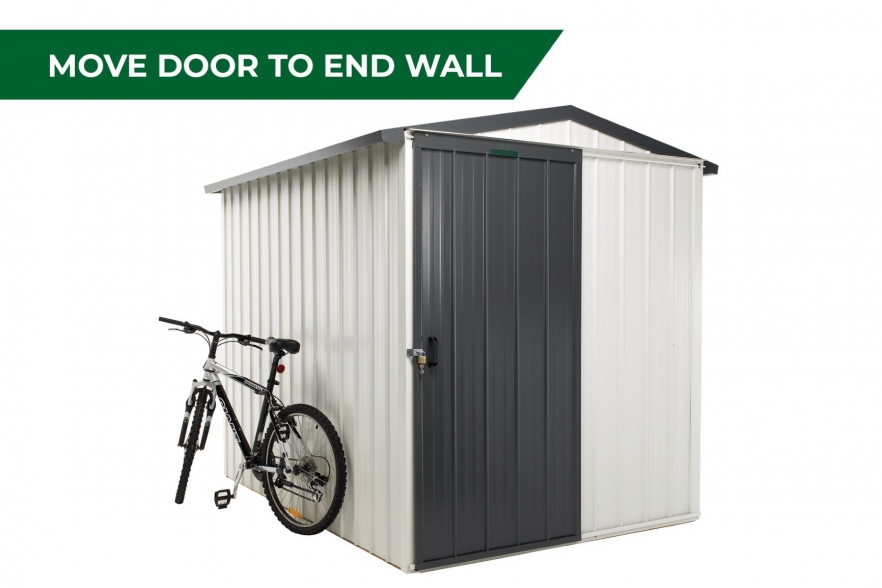 Most doors are situated in the long wall of the shed which often doesn't suit long items such as kayaks, awkward lengths of timber or Gib board etc. To solve this problem, single doors can be repositioned to the short end as shown.
Available only on selected models. To check options jump on our 3D Shed Builder.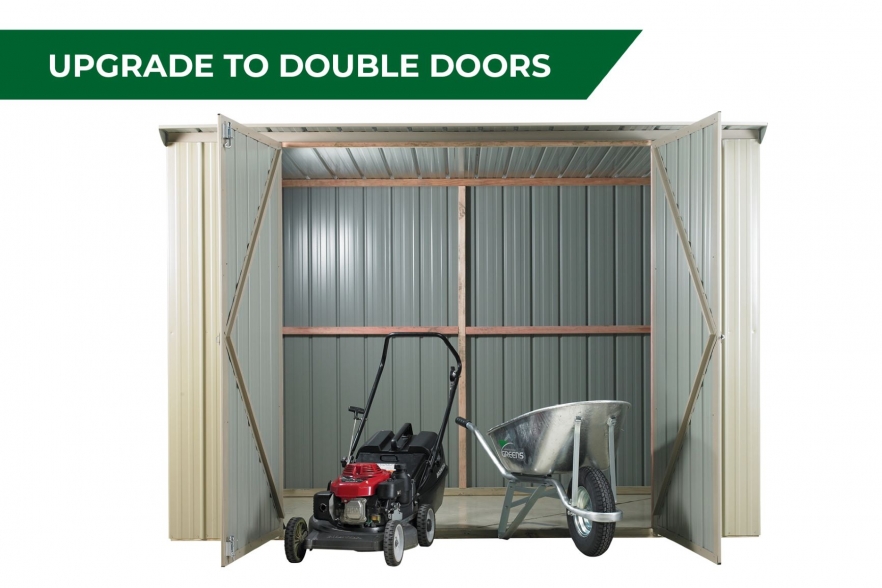 Maybe it suits you better to fit double doors in place of a single door on your Fortress shed.
Available only on selected models. To check options jump on our 3D Shed Builder.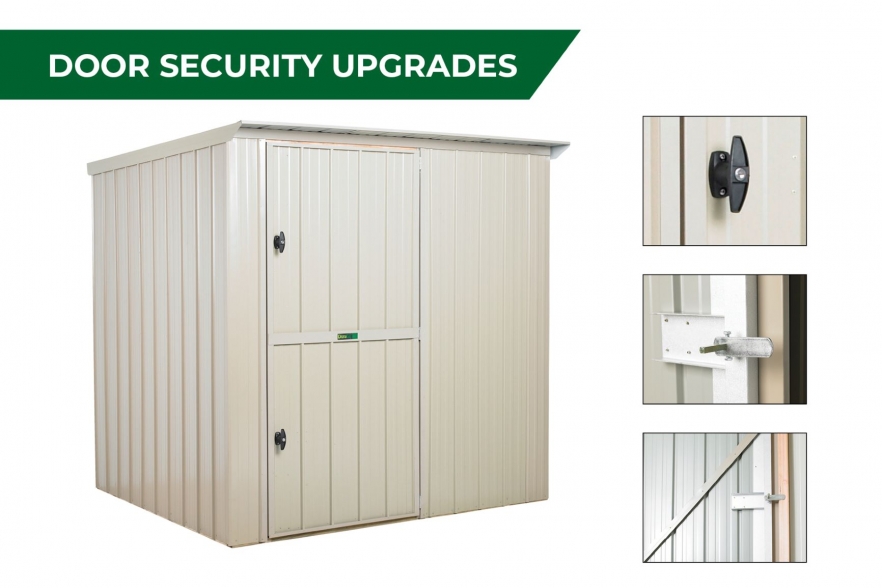 The Fortress security upgrade features two keyed alike door handles which lock securely behind the timber door stud at 2 points. A strong steel brace runs top-to-bottom on the outer edge for extra strength.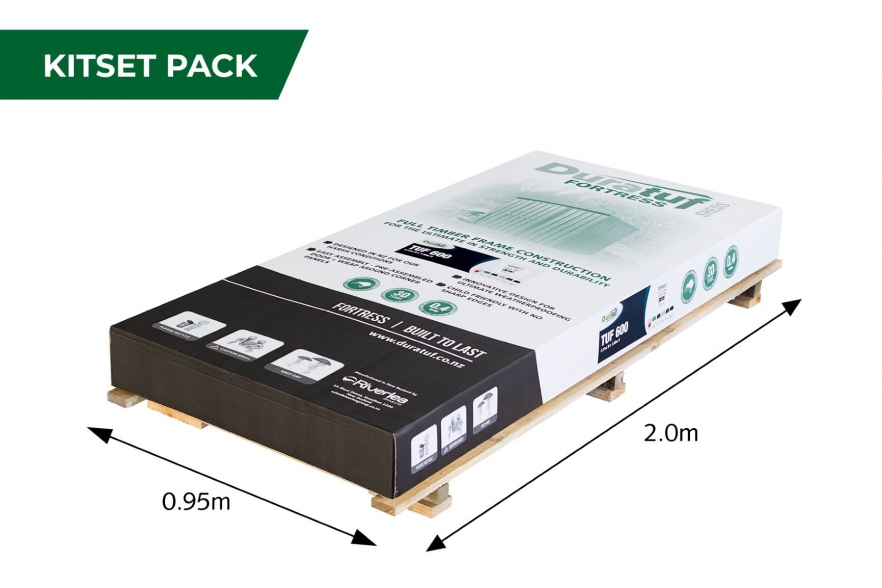 Duratuf Fortress sheds are delivered in a compact carton which includes all timber and steel components, including the hardware.
The Tuf 600 and Tuf 800 require a separate timber pack as well.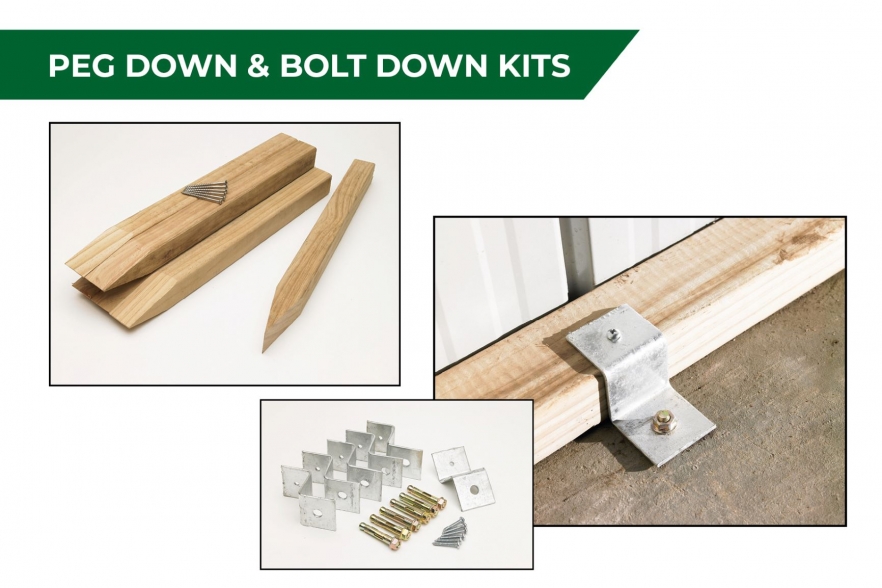 PEG DOWN KIT - For peace of mind in high wind zones, we recommend that your shed is anchored securely using the Duratuf H5 ground treated pegs. The six 500 x 45 x 45mm pegs are driven into the ground and fastened to the base plate using the stainless steel screws provided.
BOLT DOWN KIT - If your shed is to be attached to a concrete base, the Duratuf Bolt-down kit allows you to mount your shed securely. Each kit has a unique bracket designed to clamp down tightly onto the base plate and ensures that the Dynabolts are away from the edge of the concrete.
Kit includes 6 x floor clamps, 6 x 10mm Dynabolts and 6 x fixing screws.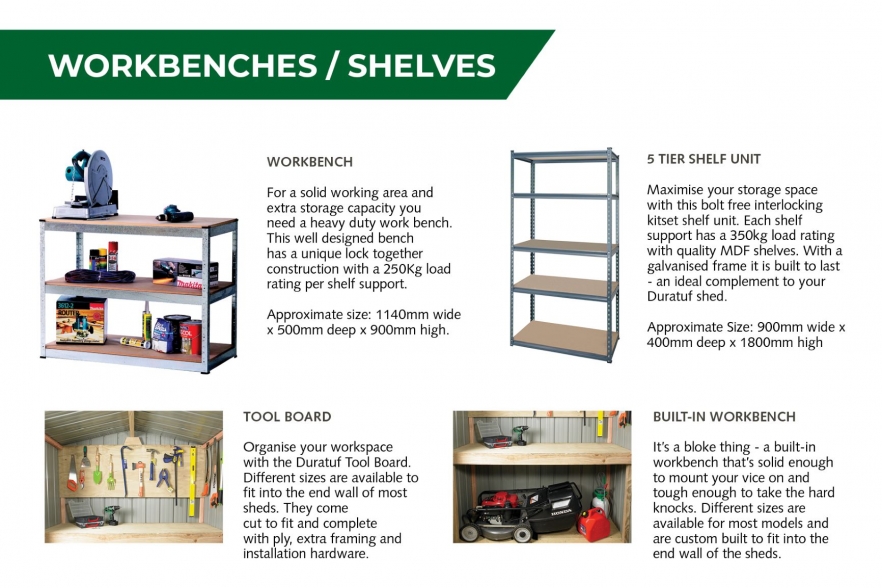 Toolboard and Built-in Workbench available on selected models. To check options jump on our 3D Shed Builder.