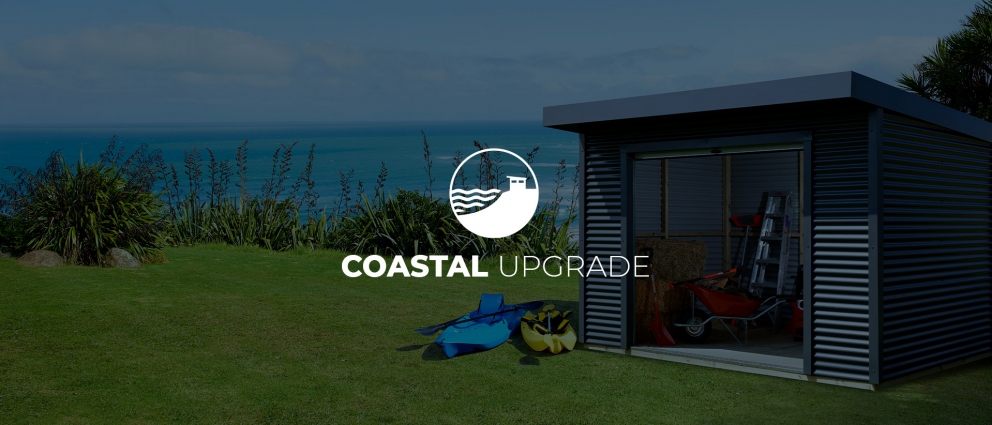 Coastal Upgrade Explained
Because we are so confident in the quality of our cladding, we back it up with a 30-year warranty in non-coastal regions (conditions apply). For those sheds in coastal areas, we also offer a high-durability grade cladding option for your peace of mind. With an extra thick layer of zinc-aluminium protection, our Coastal grade cladding provides enhanced resistance to the harsh conditions in New Zealand's coastal environment.
What is the Duratuf® Coastal Upgrade?
The Coastal Upgrade uses steel cladding with a thicker zinc protection layer under the paint coating to provide additional warranty cover for sheds in coastal areas, i.e., within 2km of the coast. The upgrade is available for a small additional cost on Duratuf Kiwi, Fortress, and Lifestyle shed ranges only. It is not available for sheds with Zinc-aluminium (non-coloured) cladding.
Warranty Periods:
Standard Non-Coastal Warranty – 30 years if located greater than 2,000m from saltwater, or 15 years if located between 1,000m and 2,000m from saltwater.
With Coastal Upgrade Option – 30 years if located greater than 1,000m from saltwater, or 15 years if located between 250m and 1,000m from saltwater.
Join a number of thrilled customers who have experienced the unbeatable benefits of the Coastal Upgrade by picking up a Duratuf Lifestyle, Kiwi, or Fortress shed (Lifestyle & Full-Timber Frame shed Ranges) and enjoy the peace of mind that comes with it a coastal warranty upgrade.
Note that Terms and Conditions apply to all warranties offered and for the full details of our Coastal Warranty Upgrade Option, refer to
www.duratuf.co.nz/duratuf-warranty.
How do I determine if a Coastal Upgrade will benefit me?
To determine if a Coastal Upgrade is recommended for your shed, you first need to determine the distance from the closest saltwater. To do this:

1. Open Google Maps - www.google.co.nz/maps , enter the property address in the address bar, then press Enter. A red balloon will indicate the property on the map.
2. Right-click on the shed site location spot and click 'Measure Distance' at the bottom of the options list that pops up. A small circle will appear on the shed site.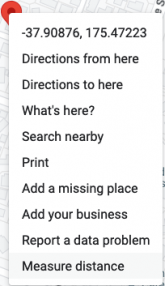 3. Now zoom out and determine the closest saltwater. This should be breaking surf OR an estuary/river wider than 200 metres. DO NOT include tidal rivers narrower than 200 metres).
4. After determining the nearest saltwater region, left-click on the shoreline closest to the property/address.

5. This will bring up a small box showing 'Total Distance'. If this is less than 2000m, a Coastal Warranty Upgrade is recommended.