1507 Garden Shed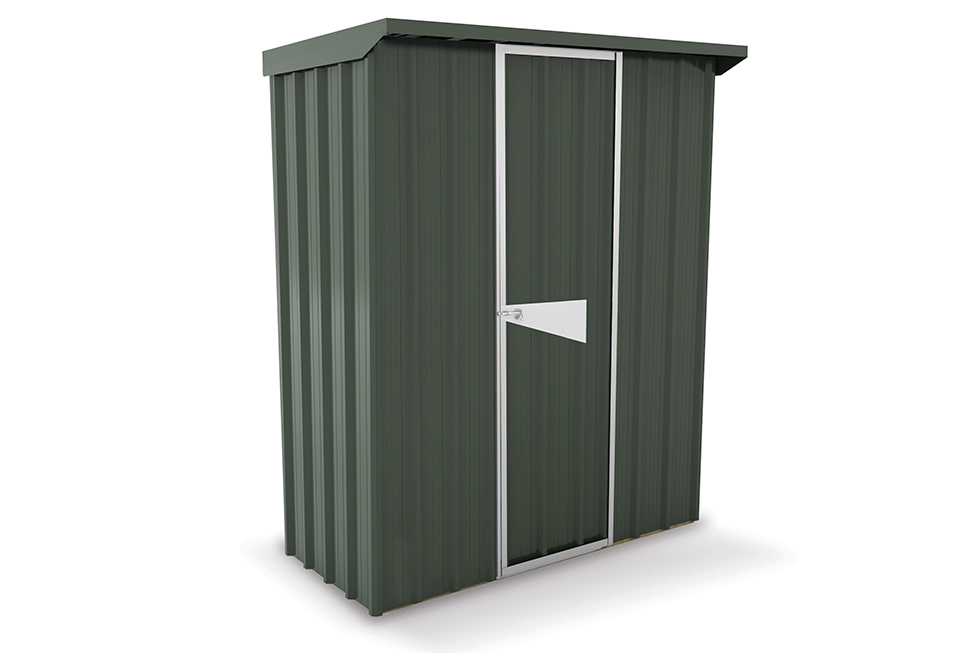 The 1507 is an ideal hideaway for your small items. A great little compact garden shed designed to fit into those small areas where space is at a premium.
Design this shed in 3D using our 3D Shed Builder here.
Stockists
Sentry SL1507
Smartstore SM1507
As with all buildings, it is important that water flows away from your garden shed. Trapped water can potentially allow water ingress and then ultimately, corrosion of the steel cladding. Unlike many other sheds, Duratuf semi timber range sheds do not have steel channels at the base of the wall. This allows water to drain away unimpeded.
Further to this, when mounting your shed on a raised concrete floor pad, the assembly can be done in such a way that the steel wall sheets overlap the concrete floor for ultimate weather proofing. Further info on this in the Assembly Instructions.
When you invest in a Duratuf garden shed, you are investing in a New Zealand made quality product that you can rely on. Manufactured on home turf means that the product is suited to New Zealand conditions. Further to that, only the best of materials are used, from NZ grown timber through to premium hi-tensile steel and quality fastenings.
Keeping Kiwis in jobs plays an important role in our community and gives the added assurance of controlled quality
during manufacture, coupled with a locally backed warranty - we'll be here if you need us!
Duratuf Semi Timber Frame sheds incorporate a treated 45 x 45mm timber plate top and bottom that locks together at the corners.
As well as providing superior strength, it creates an excellent platform to enable you to shelve out your garden shed, hang up your valuable gear and maximise your storage capacity.
Duratuf Semi Timber Frame garden sheds feature a hi-tensile, deep ribbed 0.30 gauge steel cladding. Roll-formed in our factory in Hamilton, New Zealand, it is available in a classic non-rust Zinc/Aluminium finish, or your choice of four popular colour options.
For your further peace of mind our Semi Timber Framed sheds are backed up by a full 20 Year Warranty on all steel cladding. (Conditions apply)
With bigger garden sheds, it's especially important that they have a strong framing system to support the larger walls and the bigger roof span.
Duratuf's gable roofed sheds not only have the timber wall frames for strength, but also a strong timber ridge beam structure to support the bigger span. Don't settle for anything less!
The innovative 'door-and-a-half' system on our larger semi timber framed sheds creates a practical extra wide door for everyday use.
When you need to load those bigger items such as motorbikes and ride-on mowers, simply open the half door too.
Duratuf garden sheds have the option of a pre-cut H3 treated timber floor kit.
This floor sits up on the 45mm H4 treated base plate keeping your gear elevated above any damp surface. Duratuf timber floors make an excellent base, are quick to install and give excellent rigidity to the whole shed.
Nothing is more versatile than a semi timber framed garden shed should you choose to pour a raised concrete base. Simply follow the instructions through the installation process to elevate the bottom timber plate. This will enable the wall cladding to protrude below the base plate, stopping water flowing inside the shed and ensuring a weather tight pad.
Note - Ensure that the base substrate is compacted firmly. We suggest that the slab should be 80mm thick in the middle and 100mm thick around the edges (Fig 2).
The raised slab size should be 15mm smaller than the overall base size of the shed and at least 30mm above the ground line (Fig. 1).
Clear roof panels provide UV free natural daylight in your shed. These are available as an option with any semi timber frame garden shed, and fits in place of one steel roof sheet.